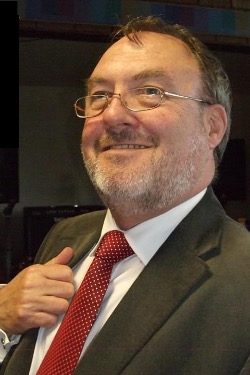 2596 views
Music has always been an important part of Dilwyn's life, from his early days as a trombonist with Llandudno Town Band in the 1960s to his years as a resident organist at local social clubs.
It was in 1974 that Dilwyn began his association with the brothers, Emyr and Elwyn. Together, they created a series of successful Welsh Cabaret Nights at the Four Oaks Restaurant in Eirias Park. In 1983, they went on to establish a company to produce programmes for S4C.
As the media industry developed in North Wales during the 1980s, Dilwyn worked as a Production Manager on several drama and documentary productions.
During this time, Dilwyn also wrote the music for several Welsh pantomimes as well as signature tunes and incidental music for various S4C productions. From 1989 to 2005, he was the resident pianist at Bodysgallen Hall Hotel.
In 1998, he became a Lecturer in Media Production at Coleg Llandrillo where he worked full-time until he retired in 2016.